Pleasant Hill Dentist
Grace Yi, DDS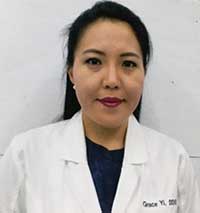 Graduated Pacific Union College (Angwin, Ca) in 2004 with a Bachelor's Degree in Chemistry with emphasis in Biochemistry.
Graduated New York University (NYU) College of Dentistry DDS Degree in 2009.
Completed Dental General Practice Residency at Albert Einstein College of Medicine of Yeshiva University Montefiore Medical Center in Bronx, NY 2009-2010.
Hiossen AIC Implant Training Course completed and Certification obtained in Aug 23, 2014 at Burlingame, CA.
Dr. Yi enjoys spending time with Family, Hiking, Traveling, helping out at church, and trying new and exotic foods :)